Morris Dancing
I have been Morris Dancing since I was 17 years old and have been dancing nearly continuously since then. I am currently the Squire (leader) of Royal Oak Morris from Eydon Northamptonshire. I'm about 18 in this photo and I still have that hat and the bells!
The following video is of Royal Oak Morris dancing dancing the dance Valentines from Fieldtown, at the Boat Inn, Stoke Bruerne on St Georges Day 2015.
Mayflower Morris
Here is a video of me dancing in Warwick, dancing a jig called Princess Royal with other members of Royal Oak Morris. The dance is from from the village of Bampton. Video Courtesy of ameliorosa
Kevin Dancing in Mayflower kit
I enjoy Morris dancing because it helps to keep a very old English tradition alive and also provides some much needed exercise, though it does tend to wear the knee joints out. It also provides the odd opportunity for a pint!
Anker Morris Men in Market Bosworth
I have danced with three sides (teams) Mayflower Morris Men from Billericay in Essex (1976-1984), Anker Morris Men from Nuneaton in Warwickshire (1989-2000)and I currently dance with Royal Oak Morris from the village of Eydon in Northamptonshire.
Anker Morris Men Dancing in Market Bosworth
Royal Oak Morris is a mixed sex side who dance mainly traditional dances from the Cotswolds,that were collected at the begining of the 20th century, but we also dance  also a few modern dances written by members of the side.
If you would like to see more information about Royal Oak Morris or come and see us dance check out our web site at www.royaloakmorris.org.uk
Here is a video of me dancing with Lin and Pete Martin in Bourdiguet, France.
Royal Oak Morris Dancing on New Years Day 2006 at Sulgrave
The origins of Morris dancing are unknown. Some believe that it originated from Moorish dances, that still look very similar, and were danced by the Moors in Spain. Others believe that it is the last vestiges of pre-Christian rites. I like to believe the latter. The first written evidence is dated to 1488 and the Abbots Bromley Horn Dancers dance with Reindeer horns, and reindeer have not been seen in this country for a long time.
Royal Oak Morris Dancing at Charwelton, Northamptonshire. May 2014.
The Morris dancing that I do is known as Cotswold Morris as it was found in villages all over the Cotswolds. There are other forms such as North West Morris from the North West of England, Border Morris from the Welsh Borders and also Molly Dancing from East Anglia.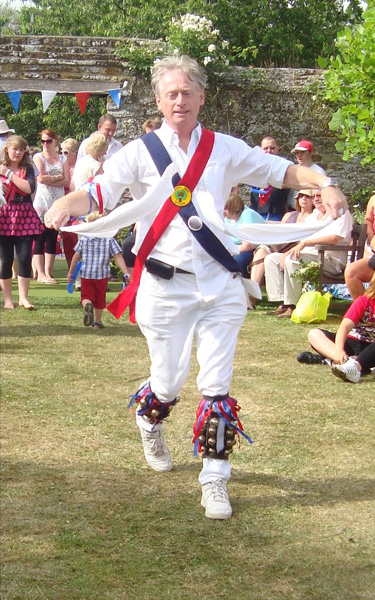 Kevin dancing
Cotswold Morris dances were collected around the turn of the 20th Century by a number of collectors, the most notable being Cecil Sharp. Many villages in the Cotswolds had Morris sides and while many of the dances were similar, or at least had similar names and tunes, the style of dancing in each village was different.
Kevin dancing
The Cotswold Morris dances were collected in several villages around the Cotswold region, and each village had its own style of dancing,w hich is known as a tradition. The clothing worn by Cotswold dancers tends to be white trousers or knee length britches with white socks, a white shirt with either baldricks ,i.e. crossed ribons as worn by Royal Oak, my current side, or tabards as worn by Mayflower Morris Men, see picture above.
Royal Oak Morris musicians on New Years Day 2006 at Sulgrave
There are other styles of Morris Dancing, for example, North West, from the Lancashire area, Border Morris, from the Welsh Borders, and Molly dancing from East Anglia.