Music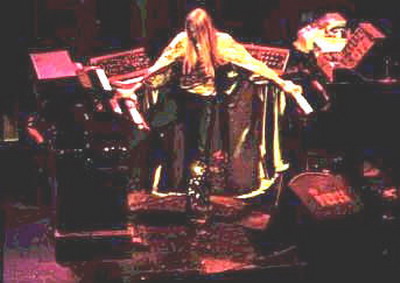 I am very interested in music and have a wide range of tastes from classical to electronic. I particularly enjoy pop and rock music from the 50's to the present day, though my main interests are in electronic music, 80's synth pop and 70's Glam Rock. In my teens I played keyboards in a couple of bands and looked a little like Rick Wakeman!
I have been a long time fan of Rick Wakeman since seeing him on the Old Grey Whistle Test in the 70's playing The SIx Wives of Henry VIII, and have been to see him many times since including Journey to the Centre of the Earth at the seventh Crystal Palace Garden Party, King Arthur on Ice at Wembley, The Six Wives of Henry the VII at Hampton Court in 2009, plus several other smaller concerts. I finally got to speak to him at a very small and intimate concert in Hinkley in 2011 organised by Hinkley ACT
I also love live music and have been to see many bands since my teens including: Pet Shop Boys, The Rolling Stones, Human League, Alison Moyet, Billy Joel, Paul Simon, Meatloaf, The Pogues, Madness, Guns n Roses, Kiss, Aerosmith, Neil Young, Roger Waters (Pink Floyd) and Santana. I also enjoy seeing tribute bands such as Off The Wall (Pink Floyd), Barry Steele as Roy Orbison, Bjorn Again (Abba), The Complete Beatles.
Back in my teens I went to see bands such as The Sweet, The Sensational Alex Harvey Band, Status Quo, Procol Harum, Leo Sayer, and Hawkwind.
Ive also seen some avent garde and alternative musicians such as Karlheinz Stockhausen and the unique Thunderclap Newman.
In June 20th 1974 I went to one of the free concerts in Hyde Park which included artists such as John Cale, Gong, Reggae Guitars, Nico, Kevin Ayers, Chapman Whitney Street Walkers and Kevin Coyne.
 The following is a list of live music events that I have attended since 2013
 Meatloaf, the last tour
 LG Arena
 2013
 Petshop Boys
 Barcelona
 June 2013
 Kraftwerk (at long last!)
 Barcelona
 June 2013
 The Sweet
 Warwick Arts Centre
 

2013

 Slade
 Warwick Arts Centre
 

2013

 Barry Steele as Roy Orbison
 Northampton, Derngate
20/3/14 
Rick Wakeman - Journey to the Centre of the Earth 40th Anniversary Concert
NIA, Birmingham
29/4/14
Jean Micheal Jare
 O2, London
 2016
Roy Wood, Andy Fairweather Lowe, Rick Wakeman, Adam Wakeman
 NIA, Birmingham
 Dec 14
Petshop Boys
NIA, Birmingham
 24/2/17
Human League
Leicester
2017
Kraftwerk
New Theatre, Oxford
6/6/17
Howard Jones
Milton Keynes
29/3/17
Keith Emerson Tribute with Rick Wakeman
 Symphony Hall, Birmingham
 28/7/17
Alison Moyet
Corn Exchange, ambridge
12/11/17